#99D-5206 Macbee Model 36SWBB-20 Dual 36″ Horizontal Bullblock Line; start wire: .341″; 2 x 36″ dia. x 20HP AC motors; inset pull type; (2) guide stands; Macbee 36″ LWSP-10 expandable drum coil take-up; oscillating base; 18″ traverse max; 48″ coil payoff, max weight 500 lbs; PLC controls; operators station; filter sludge removal system 
#99D-5239  MacBee Model 6-24 B/C60 6-block 6-die Wire Drawer; 6 x 24″ x 60 HP DC motors; max. start: 6.5mm (.255″) to 5.5mm (.216″); dancer control; speed: 1500-1700 FPM approx.
#581A-60  Hetran Coil-to-Coil Model WS-15 Wire Shaving Line; new 1993; working range: 0.5″ to 1.5″; 5000 lb. horizontal pre-feeder; (2) 7-roll straightening sections; (1) 4-roll in feed; tool holder shaving head (variable speed SCR control, 100HP); 4-roll pinch roll unit; (3) belt polishers; chip conveyor; recirculating coolant reservoir; dual turntable payoffs; operators stand; spare shaving head; misc. spare parts
#99D-5278  Vaughn 4HRX Motoblox; max. inlet: .437″ approx; last drawing: .375″; finish: .220″; (4) 30″ x 60/75 HP DC motors; speed: 277/1200 FPM; finish block with stripper – air & water cooled blocks; Burton/Mentor electrical controls; 300 KVA dry type transformer; payoff unit
#99D-5306  (2) Frigerio Intermediate Wire Drawing Lines:  Last drawing low carbon. Machines have the capabilities of drawing low-medium-high and stainless steel material. Still installed in European plant.  (1) Frigerio Model 460/10 Intermediate Wire Drawing Line; start 4.5-3.0mm, finish 1.25-0.93mm; 10 x 460mm x 35KW per block DC motors, 380V-3ph-50cyc, take-up: BE760 Spooler (30″); (1) Frigerio Model 350/12 Intermediate/Fine Wire Drawing Line; horizontal axis blocks, 6 upper, 6 lower; enter 3.5-2.4mm (.137″-.094″), finish: 1.05-0.6mm (.040″-.023″); 12 x 350mm (13.77″) x 18.4KW motors per block; DC motors; 380V-3ph-50cycle; take-up: BU450 450mm Spooler
#99D-5312  MILL Model 2xTV-22/2+2xTV-13/2+TV-13/R Wire Drawing Machine; blocks 1 + 2 double deck OTO blocks 3 + 4 double block accumulator; block 5 finish; block/capstans 550mm (22″); blocks 1+2: 60HP; blocks 3-4-5: 30HP; max. inlet: 7mm; max. speed: 11M/sec (2200FPM); motors V-belt drive; die boxes water cooled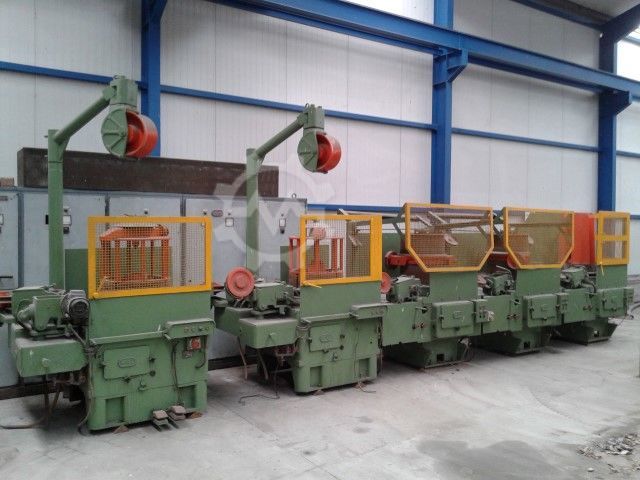 #99D-5332  Koch Model KGT 25/10 Wire Drawing Line, Turnerline; 2007-2008; inlet: 6.0 to 5.5mm; outlet: 1.4 to 2.5mm; hi-low carbon; block 1: 710mm x 75KW; blocks 2-10 x 630mm x 45kw AC motors-drives; 20M/sec.; Line consists of: -Koch KGT25/10, 10 block; -Overhead payoff device model UAG/2K; -Mechanical descaler and treatment system, model KES, reverse bending mechanical descaler model WEZ-1F, 5-roll offset, -single belt grinding/sanding descaler model BSA-1; -wire rinsing device model/type DSE, -wet coat unit, model BSG/N-2, -Drawing deadblock coiler, model KEWIII-Z, block/capstan dia. 600mm, drive: 45kw AC motor, -spooler-horizontal design, model KHS800, flange dia. 800mm
Click here to view videos of Koch 10-block:
https://www.youtube.com/watch?v=Wf9B9y8gpas
https://www.youtube.com/watch?v=_sDK1l63_eM
#99D-5338  Morgan Koch Wire Drawer; (4) four 580mm dia. blocks; 4 die; motor 1: 44.7kW(60HP); motors 2 thru 4: 38.5kW(48HP AC); max. wire inlet: 8 to 6mm; outlet: 3.0 to 4.5mm low carbon; voltages: 220/440V AC; Yaskawa AC drives; 12 Mts/sec approx.; no payoff descaler or takeup unit
#99D-5339  Frigerio Wire Rod Breakdown Drawing Machine; 9 block/die; 560mm blocks; last block double deck; motor power: 1st block: 61.5kW(81HP DC); blocks 2 thru 9: 46kW (61HP DC); inlet wire dia: 5,50mm, outlet: 1,40-1,20mm (.055″-.047″); max. speed: 25M/sec.; (9) motorized rotating die boxes; synchronized with dancers; 900mm spooler: 900mm(36″); 73.5kW DC 100HP DC; spooler speed: 25m/sec.
Click here to view video:
 https://www.youtube.com/watch?v=vTMN4g7m1Zk&feature=youtu.be
#99D-5342  Team Meccanica Model TD610/6 6-Block Wire Drawer; 6x610mm x 37KW per block; low carbon: start: 5.5mm (.216″); finish: 2.4mm (.094″); speed: 20M/sec; 380V-50cycle-3ph; SVV2500-2 Payoff System: 2 hydraulic tilt payoffs: 2500 lb. weight (5-10mm wire dia.); hydraulic  operated payoff tower, 700mm high; Model SC6 Mechanical Descaler; Model BS-1000 Horizontal Traverse Spooler: 39.39″ dia. x 45KW; Siei Sistemi electrical controls with Siemens PLC's
#99D-5353  Ernst Koch Model KGT1000/8 Wire Drawing Machine; 8 x 550mm blocks x 37 KW-AC motors; inlet: 6.35mm (.250″); outlet: 1.6mm (.063″); low-medium carbon; 22 mts/sec (4400 FPM approx.); electrical controls new 2016: Sie Sistemi; Siemens PLC S-7 PLC's; take-up coiler, Techno Cable deadblock; 500mm (120″) x 30 KW; dancer control unit; new water cooling system