#89J-477  Morgan Model DB-16 Deadblock Coiler; 22″ block x 20HP DC Motor; 500V-3ph-60 cycle; 850/1700 RPM; ratio: 2.01:1
#89J-487  Vaughn 24″x40HP DC motor Drawing Deadblock; min. wire dia: .062″-.080″; speed: 1100/2200; drawing die; killer rolls; Control Tech.
#89J-496  Hi-Draw Drawing Deadblock Coiler; 24″ x 40HP AC Motor; 1780 RPM; 230/460V; max. speed: 3400 FPM; air pneumatic brake; cooling for block; die holder on flywheel; spare 24″ block; no electrical drive/controls
#89J-497  Morgan Deadblock; 22″ diameter block; wire dia. range: .080″-.175″ S.S.; speed: 2400 FPM; coiling only – no die; 34.5 KW AC Siemens motor
#89J-498  Whitacre 30″ x 150 HP DC Bullblock; min.-max. wire: .078″ to .362″ approx.; die box on flywheel; last used in conjunction with single die bullblock
#89J-499  Robinson Eng.-Renco Deadblock Coiler; Max. enter: .217" approx.;  Last coiling: .187"- .200";  Double block/ capstan machine – 2 draft; Entry block dia.:  16"; Exit block dia.:  30"; 1200 FPM approx.; 100 HP; Turntable
#89J-500 – Renco Macbee style Drawing Deadblock; 26″ block x 75HP DC motor; Sabina electrical controls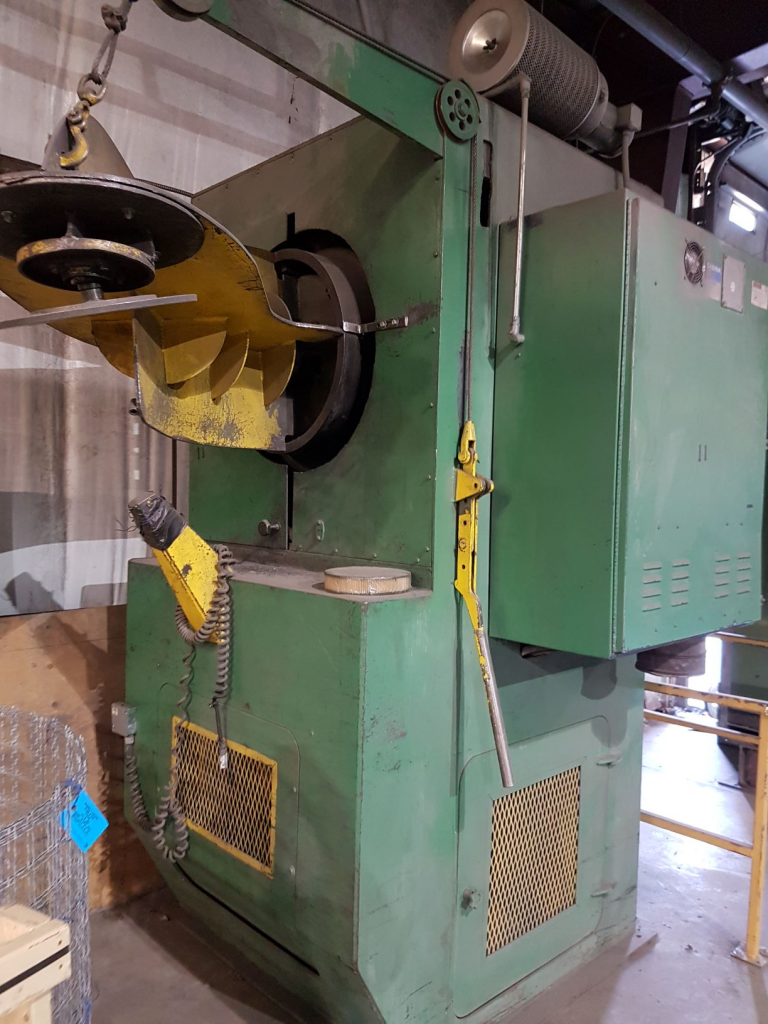 #89J-501 – Macbee Model 16DBLC-15B Drawing Deadblock Coiler; 16″ capstan/block; 15 HP DC motor; wire dia. coiling range: .047″-.125″ (1.2-3.1mm); electric clutch brake; dancer control unit mounted on machine; air pneumatic horn-lift; approx. speed 2500FPM
#89J-502  GMS (Glader) 16″ Drawing Deadblock Coiler; min.-max. wire dia. range: .047″-.135″ (1.2-3.4mm) approx.; 30HP DC motor; speed: 2500 FPM approx.
#89J-503  MacBee 28″ V-Groove Downcoilers; 3 sets of 2;  2 sets of 2 (blue units), new drives and gear box, (2) turntables, new gear motor; 1 set of 2 (green units), same as other unit- no new electricals and gear box
#89J-504  Morgan 22″ Drawing Deadblock