#99A-4094  Herborn Model EG-1 Double Deck Bullblock; 30″/22″ block; max. wire dia. w/double draw start: .218″ – finish .188″; 2nd draw: .188″ to .148″; single draw max. .437″- finish .375″; 120HP AC (90 kw) motor; 3 speed gearbox; max. speed 900 FPM approx; furnace AC electrical controls; high riding stripper; spare 30″ single block (only 1 die box avail.)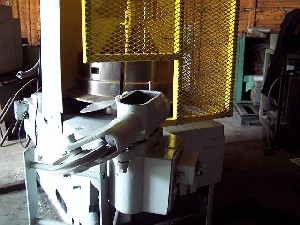 #99A-5206 Macbee Model 36SWBB-20 Dual 36″ Horizontal Bullblock Line; start wire: .341″; 2 x 36″ dia. x 20HP AC motors; inset pull type; (2) guide stands; Macbee 36″ LWSP-10 expandable drum coil take-up; oscillating base; 18″ traverse max; 48″ coil payoff, max weight 500 lbs; PLC controls; operators station; filter sludge removal system 
#99A-5248  Herborn Model HG160 Horizontal 30″ Bullblock; start rod dia: 28mm (1″); 55kW DC motor; 500V-50cy-3ph; max. drawing force: 16000Kp; drawing speed: min-max: 0.2 to 1.2m/sec; 2-plane straightener; payoff; 4-roll rod pointer
#99A-5261  Vaughn #22 42″ Single Deck Bullblock; 9.33:1 ratio; drive motor positioned in front and operating rails on side.  No motor or electrical controls; designed to pull: 1/2″-5/8″-3/4″ approx. at high volume
#99A-5271  Robinson-Renco Eng. Double Deck Bullblock Drawing & Deforming/ Ribbing Line; 22″/30″ x 125 HP AC; 230/480V-3ph-60Hz; past use: max. wire: .390″ (10mm); min. wire .178″ (4.5mm); Tashiba G7 Adjusto-Speed electrical controls; ratio: 14.25:1; speed: upper/lower block: 990/720 FPM; cooling unit: gearbox housing & die box; Lanex (4) 8″ dig. scale breaker unit; (4) motorized brush descaler; Fenn model 5TH Turkshead; tooled from deforming/ribbing; Davis 50″ traverse spooler: 30HP Dynamatic/Adjusto Speed motor, (2) 48″x25″ traverse spools; 4000 to 5000 lb. coil weight; 6-arm rotating base payoff, 5000 lb. coil weight per arm.
#99F-5272  RMG Model 1011 5/8″(.625″-16mm); In-Line Reverse-Frame, L to R, High Speed Wire Drawer; capstan dia: 44″x8″face; Max. wire: -alloy: .630″(16mm), -mild steel: .687″(17.5mm); max. tractive draw force: 16,000 lbs. (7260kg); 75HP Hi-efficiency induction motor: 230/460V-3ph-60cycle; 1165 RPM; machine originally used for in-line drawing and straight & cut process; S/N 1011-75263-73; RMG Descaler-model MD-14; capacity: .218″ to .625″, 2-roll reverse bend, left to right; 
#99A-5287 (c/r #659-807)  Pittini Wire/Rod Rolling Line; max. rod/wire: 14mm, finish 14mm to 4mm (.551″ to .157″); two drafts; (2) two hydraulic tilting payoffs; 6200 lbs. (3000kg); coil dia. ID: 33″ (850mm); max. coil O.D.: 50″ (1250mm); max. coil height: 8'5″: 2600mm; (1) vertical payoff tower; (1) descaling unit; (1) soap/lube applicator; (2) rolling cassette units: double deck bullblock: 30″/24″ (760mm/ 590mm); 296 HP DC motor (221 kW); 440/460V-3ph-60cycle; stress relieving device; meter counter; automatic spooler; auto change; spool dimensions: 50″ flange: 24″ barrel; flange width: 37″ (1250x630x950mm); max. weight: 6200 lbs. (3000 kg); new 1998/1999; spare tooling, spare cassette. Special note: cassette tool can be changed to deform rod/wire
#99A-5295  35″/15″ Vaughn-style Double Deck Bullblock; ex Cell-O Corporation; cone drive gearbox; ratio: 25:1; cone and worm gears have auto spray lubrication; drawblock is oil & air cooled; 2 die boxes; last drawing: 5/16″(.312″) – 1/2″(.500″) high carbon double pass; 5/8″ (.625″) single pass; no motors or electrical drives
#99A-5300 Morgan Model #10 Double Deck Bullblock; 28″/20″; set up for single pass; 1 die box only; max start .375″ (9mm) hi carbon; Reliance 100HP DC Motor; 1750/2100 RPM; 500V; air cooling block & motor; die box; 460V-175A-3ph electrical controls; Control Techniques: Mentor II digital DC drive isolation transformer (for Canada only)
#99A-5301  Techno Impianti Model GN65 Cold Rolling Line; inlet iron wire/rod: min-max: 5.5 to 14mm; outlet: min.-max. 4mm-12mm; speed max. 6.5M/s; double deck bullblock (water cooled); line consists of the following: (2) dual 6000lb. pneumatic tilt payoffs; payoff tower; descaler; draw coating unit; 2 rolling cassette units; spooler; control panel; electrical cabinets; line new 1980's/1990's; reconditioned in 2014
Click here to view videos:
https://www.youtube.com/watch?v=mUM3TmDd-SQ
#99A-5302 (c/r 659-812)
SMEI Drawing-Deforming Line; New 2007; triple (3) block bullblock; 470mm/ 640mm/ 880mm;  160Kw (215HP); 380V-50 cycle; inlet wire: 14mm-5mm; outlet wire: 12mm-3.5mm; water cooled blocks; drawing speed: 17M/sec; dual (2) pneumatic tilt payoff units: 3,000 kg; payoff tower; mechanial descaling; dry coating draw unit; (3) roll cassettes: (2) for reducing, (1) for deforming; spooler: 1200mm dia., 1000mm traverse, 3000 Kg; ABB electrics
#99A-5311  MILL Model TV-60 Double Deck Bullblock; max. inlet: 12mm (1/2″); capstan/block dia: 760mm/550mm; double die; 3 speed gear box; 1.62:2.46:3.51M/sec.
#99A-5347  Kistner Double Deck Wire Drawing & Ribbing Line; Model EV60-DO; inlet dia: 12-7mm; finish wire: 10-5.3mm; low carbon: 500MPA; tensile finisher: 800 MPa max.; drawing speeds: 4-10M/sec.; block dia: 562.5/750mm x 190 KW AC motor; 2 die box and 1 cassette for deforming; vertical spooler; dual wire pneumatic payoffs with tower; Wire Lab descaler unit; 400V-3-50cycle
#99A-5348  A.W.M. Cold Rolling & Deforming Line; Model TR-BV-DX-560/750-4÷12; to produce smooth or ribbed steel wire; min.-max rod: enter: 5.5-14mm; min-max. rod: finish: 3-9mm; speed: 7M/sec.
#99A-5349 (c/r 659-820)  HWP Double Deck Bullblock Wire Drawing and Deforming Machine; 5mm to 10mm wire dia.; block: 20″/21″ x 75 HP; (1) rolling cassette, (1) deforming cassette; (1) drawing deadblock coiler: 400V-50cycle-3ph